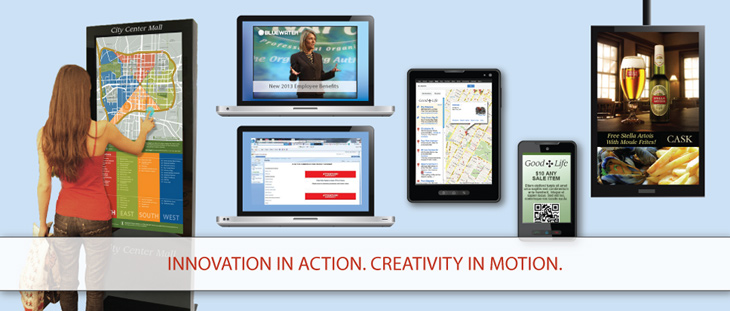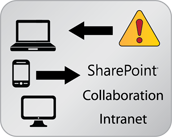 SharePoint and Intranet Connector
X-Factor helps large enterprise drive performance, productivity, safety and compliance by ensuring that the right message gets delivered to the right employee, at the right time, across an integrated, multi-campus environment. X-Factor is all about emergency Mass Notifications, emergency messages, alerts and digital media distribution linking any device to corporate information and collaboration resources. Our products can be leveraged to maximize your investment in SharePoint improving your corporate communications initiatives.
Powerful Content Creation, Management & Distribution Platform
X-Factor's easy-to-use flagship application, Digital Screen Control Portal (DSCP://), delivers single point publishing capability for any content including business metrics, company dashboards, interactive informational content, rich media, and much more. This powerful platform, built on HTML5, can quickly and easily deliver the right information, to the right audience, at the right time - to any connected device. Aside from controlling content to be displayed on digital signs, screensavers, all desktops and mobile devices, the platform includes a web plug-in for SharePoint (or any web site) enabling non-technical users to easily post information and alerts to SharePoint, or any internal or external website.
X-Factor's unique product set integrates with SharePoint in many significant ways:
Intuitive Interface - With the Web Plug-In, Administrators can quickly publish content to SharePoint, IBM WebSphere or any platform, website, corporate intranet site, or any information resource driving corporate information and collaboration resources. With a dedicated zone on any page, non-technical users can easily post content to the zone using DSCP. The same content can be simultaneously seen on any desktop via screensaver or player, on any digital sign or mobile device. DSCP is a single point publishing platform.
Interactive Content - Clickable links to detailed information on SharePoint (or any website) can easily be embedded in content that is disseminated throughout your organization on screensavers, the desktop player or to mobile devices. These clickable links drive your employees to your intranet site, corporate information or collaboration resources allowing you to leverage this valuable company information already developed.
Interactive Alerts - With DSCP, interactive alerts are supported. When you send out an emergency message, you can include a link to SharePoint (or any website) that provides detailed instructions. For example, don't just notify your user community of a system outage; include a link to downtime instructions in the alert so this valuable information is right at your customer's fingertips, when they need it the most!
Simple but Sophisticated PowerPoint Automation - With X Factor Communication's Digital Screen Control Portal, displaying a PowerPoint presentation to your entire organization has never been easier. Our PowerPoint automation tool allows users to author in PowerPoint and easily distribute this presentation to all end points.
Use SharePoint to quickly broadcast messages to all employees, to any department or team:
Broadcast emergency notifications, emergency messages and alerts to all devices from one console
Drive usage of corporate resources and data
Broadcast IS security awareness content
Display CEO messages and company news
Announce Human Resource information and changes to employee benefit plans
Train employees using interactive videos, real-time RSS and XML feeds
Display real-time company metrics reinforcing company targets
Recognize employee successes and share employee generated news
Update employees on product enhancements, service introductions and product launches
Reinforce seasonal health messages and wellness programs
Inform, monitor and display social media news, trends and customer postings
Link to web collaboration and corporate information systems
PRODUCTS
dscp:// DIGITAL SCREEN CONTROL PORTAL
ENTERPRISE DESKTOP
STOREFRONT & DMAX
MULTIMEDIA PLAYER
INTERACTIVE KIOSKS SERVICES
SERVICES
CREATIVE
MEDIA SERVICE BUREAU
WEBCASTING
For more information call 1 (877) 741-3727 or email sales@xpub.io.