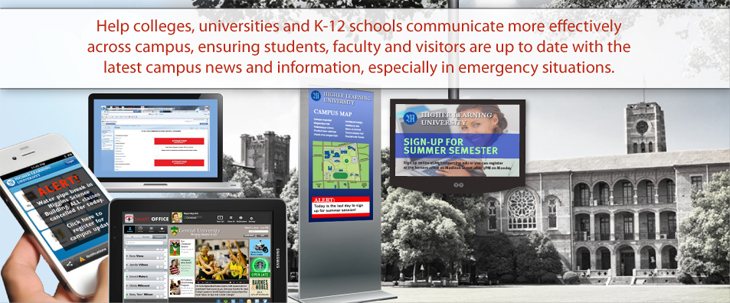 Education
X-Factor Communications helps institutions of higher education and K-12 Schools communicate more effectively and comply with regulations across campus, ensuring students, faculty and visitors are up to date with the latest campus news and information, especially in emergency situations.
Powerful Content Creation, Management & Distribution Platform
Although each educational community is unique, the need to improve the overall campus experience and safety through effective communication for students, faculty and visitors is not unique and the challenges are paramount. The company's easy-to-use flagship application, Digital Screen Control Portal (DSCP://), addresses these challenges by delivering single point publishing of Mass Notifications, advisories, rich informational content and advertising to any IP connected device.
This powerful platform helps higher education and K-12 Schools create and deliver "any content" quickly and easily on "any device" including mobile phones, tablets, smart phones, SharePoint, intranet sites, desktops, kiosks, digital signs, and telephones "anywhere". No matter what screen students are using, you can incorporate dynamic PowerPoint documents, live videos, real-time RSS and XML feeds in order to provide customized informational applications on any display. Content can be "interactive content", allowing the user to embed clickable links to detailed information, launch a related video, or register for an event on campus.
Single Point of Entry for All Emergency Notifications
Whether you are a K-12 school, community college, or four-year college or university, you're confronted with keeping your faculty, staff and students safe on campus while fostering a positive learning environment. The company's digital media software solutions include multiple severities of emergencies and pre-configured alert profiles that can be selected when activating an alert, ensuring that the user sends the right message, to the right audience at the right time.
Users can quickly override scheduled content with breaking news system-wide or to a designated area
Emergency messages can also be sent to pre-configured lists of emails and phone numbers, ensuring more students, faculty and parents get notified in case of an emergency.
Users can immediately deploy an emergency notification along with a clickable link within any message or alert soliciting feedback or linking to evacuation procedures, lock-down instructions or other critical information.
When sending an emergency message to any device on campus, users can also send voice calls using text to speech capabilities.
Campus Emergency Notification Software Solution Benefits:
Multiple use cases including severe weather, complex security threats, police alerts, fire alarms, breaking news and more
Prevent situations from escalating into threatening, dangerous, or potentially even tragic events
Override scheduled content system-wide or to a designated any code activation, system downtime notification, or with breaking news
Quickly and easily deploy emergency messages or alerts when the need arises using pre-built templates
Deploy messages using a mobile device, Web browser or Content Manager-ensuring that you can get the word out in time-no matter your location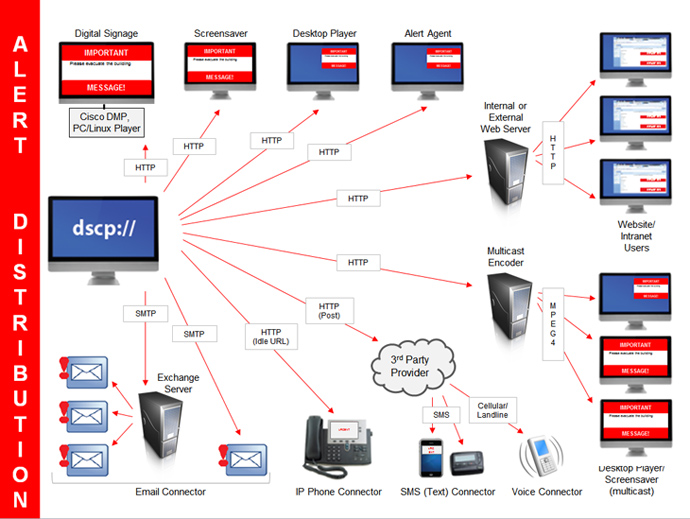 Situational Uses for Improving Campus Safety and Communication:
Alert campus with safety and emergency notifications
Direct students and visitors with interactive wayfinding to navigate campus
Link to current Mass Notification System procedures
Publish weather advisory and other environmental emergencies
Post real-time system downtime notification
Broadcast news headlines and traffic reports
Announce sporting events, programs and special promotions
Display cafeteria and dining hall menus
Reinforce seasonal health messages and wellness programs
Display advertisements for students to purchase tickets online
Recognize generosity of donors and encourage giving
Share and display social media news and trends
Where Digital Screens can go:
Admissions offices
Building lobbies
Financial aid offices
Outdoor campus locations
Cafeterias and dining halls
Campus facility entrances
Classrooms
Gymnasiums
Libraries
Registrar's offices
Student health centers
Student unions
Stadium and arenas
PRODUCTS
dscp:// DIGITAL SCREEN CONTROL PORTAL
ENTERPRISE DESKTOP
STOREFRONT & DMAX
MULTIMEDIA PLAYER
INTERACTIVE KIOSKS SERVICES
SERVICES
CREATIVE
MEDIA SERVICE BUREAU
WEBCASTING
For more information call 1 (877) 741-3727 or email sales@xpub.io.