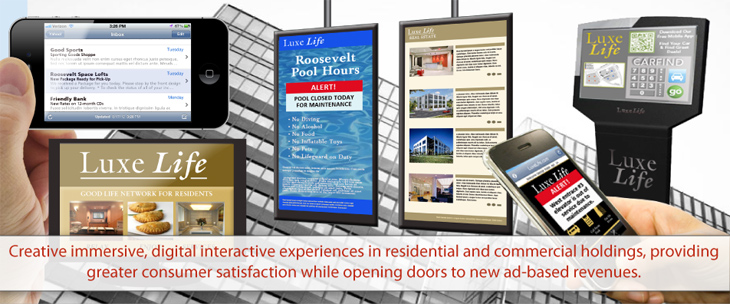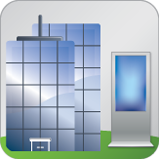 Real Estate
Whether digital signs and interactive touch screen kiosks are in residential buildings, or commercial office spaces, X-Factor's dmcp:// platform makes it possible to provide directory information, important service related messages, advisories and emergency notifications, and other services to tenants.
Because X-Factor's platform supports all varieties of multimedia - including the integration of live feeds (for weather, traffic, news) and television - digital displays in lobbies, elevators, gyms, conference rooms, and more are not only informative -they are dynamic and beautifully designed.
X-Factor's creative studio works with building owners to brand our library of available templates to create a virtual experience that matches the look and feel of the building - while also making it possible for facilities managers and communications teams to easily update messages and incorporate advertising.
X-Factor's digital signs and interactive kiosks beautiful and smart, and can be instantly and efficiently updated to ensure accurate and timely information. Our remote network management software also ensures the "end-points" are operating perfectly.
X-Factor's Storefront software makes it easy for real estate owners to generate new revenues through advertisements - national or local - including special deals for residents from local restaurants, bars and shops. The building can also promote their own value added services (dry cleaning, housekeeping, grocery replenishment, spa, babysitting, pet care, and more).
Our mobile synchronized applications provide a great experience for the building and residents as well - communication on the go with the doorman and concierge, including secure key services, emergency and traffic alerts, and instant messaging.
In a highly competitive real estate market, having elegant, intelligent digital interactive services adds excitement and sophistication to premium properties, exciting for the staff and for residents and tenants who are able to enjoy modern living at its best.