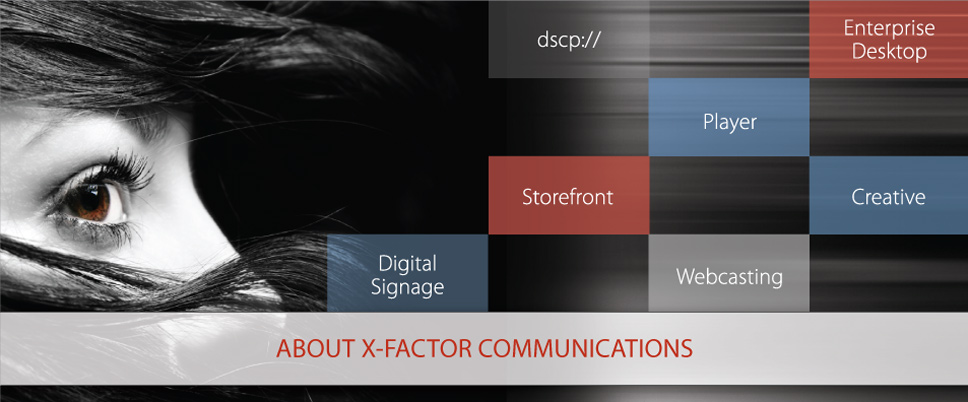 About X-Factor Communications
X-Factor is a premium provider of easy-to-use, interactive digital media software and services delivering single point publishing of Mass Notifications, advisories, emergency messages, alerts, rich informational content and advertising to any IP connected device. The company helps its customers enhance communication, through effective dissemination of "any content", to "any device", "anywhere".
Powerful Content Creation, Management & Distribution Platform
X-Factor's easy-to-use flagship application, Digital Screen Control Portal (DSCP ://), delivers single point publishing capability for business metrics, dashboards, interactive informational content, rich media, and much more. Originally developed for the digital signage industry, this fourth generation product, built on HTML5, delivers robust messaging capabilities right to your fingertips. With an array of software solutions, the centrally managed messages can instantly be seen on any device across your organization, and beyond.
Any Content. Any Device. Anywhere.
From a single console, DSCP provides the ability to quickly post urgent information to mobile phones, tablets, smart phones, SharePoint, desktops, kiosks, digital signs, intranet sites and telephones. Based on the selected Mass Notification profile, the content of the alert automatically gets sent via email, SMS text messaging and live phone call with text-to-speech conversion to all intended recipients.
X-Factor's media software solutions have been successfully adopted by many high profile clients used in large medical centers, community hospitals, major public transportation venues, and campus wide at institutions of higher education. Our scalable, browser-based solutions are designed for non-technical users and can be acquired as a subscription or purchased license and delivered either as a software-as-a-service ("SaaS") or from your premise-based physical or virtual server.
Founded in 2005, X-Factor is headquartered in New Jersey with demonstration centers in New York and Boston. The company has a strong leadership team with a combined 50 plus years of experience in digital media, broadcast, advanced technology, enterprise IT management and advertising. X-Factor has strategic relationships with industry leaders including, Cisco, Samsung, Genband, Verizon, NEC and a number of network service providers and multimedia services resellers. The company provides a full suite of professional grade digital media services including digital media application development, live event production, content creation and program management.
Contact X-Factor Learn more: Download Our PDF
Download XBRL Quarterly report Download past XBRL Quarterly report
Charles Saracino, Chairman of the Board, President and CEO.
Mr. Saracino's entrepreneurial career of 26 years has spanned television, corporate and Internet broadcast services as well as digital media software and creative services. Mr. Saracino has served as the President and Chief Executive Officer of X-Factor Communications, LLC (XFC) since its founding in May 2005. X-Factor Comm. LLC was formed as a spin-off from Intellispace Inc., an Internet service provider where Mr. Saracino served as VP and General Manager of Intellispace's newly formed Media Services division from October 2003 to the founding of X-Factor LLC in May 2005. Prior to joining Intellispace Inc, Mr. Saracino founded MediaOnDemand.com ("MOD") in 1992 and led the company as its President and Chief Executive Officer from inception to 2002 when the company was sold to a public company, Visual Data Corp of Pompano Beach, Florida. MOD provided turnkey webcast services to the large enterprise organizations and public venues including Intel, Lehman Brothers, Nasdaq, the United Nations and the Jacob Javits Convention Center. Prior to founding MOD in 1992, Mr. Saracino co-founded Waterfront Communications Corp. (WCC) and served as its Executive Vice President/General Manager from 1985 to 1992, Mr. Saracino was instrumental in creating the first successful switched video broadcast network to incorporate fiber optic, satellite and microwave technologies. Waterfront's clients included CBS, CNN,NBC,ABC, Rainbow Communication and Atlantic Satellite.
Close
Brian Watts, Chief Information Officer.
Mr. Watts has been a serial entrepreneur over the past 20 years, creating database software that was sold in Europe and in Japan (1991); providing an International Trade Database system to the United Nations (1992), and founding New York Internet Center (1996) where he spearheaded a number of firsts in the industry, including the streaming of the world's first live boxing match over the Internet (1997). He has a graduate degree in Computer Science from Rhodes University, an MBA from Thunderbird School of Global Management and a Ph.D. in Experimental Psychology from New York University. Mr. Watts was as Senior Researcher at The University of South Africa from 1981 to 1983. In September 1983, Mr. Watts entered the PhD Experimental Psychology Program at New York University. In 1989, Mr. Watts was engaged by Elsevier Science Publishers (Netherlands) to create a database software product for sale in Europe and Japan. For this purpose, he created 'BiB/Search Software' (an LLC) during that year. He formed World Trade Markets in 1992, which developed an International Trade Database CDROM product that was used by the United Nations. In 1996, Mr. Watts created New York Internet Center (NYIC) as a Partnership with Computer Educational Services with a focus on Internet Training and Internet applications development. In 1997, Mr. Watts took control of NYIC, serving as its CEO until 2005, at which time he commenced the Executive MBA program at Thunderbird School of Global Management. From 1997 until joining X-Factor in August, 2011, Mr. Watts has been working as a consultant.
Close
Roslyn Yee, Director of Sales Operations
Roslyn has over 15 years experience working within the video production, broadcasting and streaming media industries. Prior to joining X-Factor, she was the Account Manager for MediaOnDemand, Inc. and was also a Sales and Marketing Manager for the studio division of Nippon Television International which is Japan's largest broadcasting company. She started her career at National Video Industries as an Account Executive, coordinating production and post-production projects for major film companies and advertising agencies.
Close