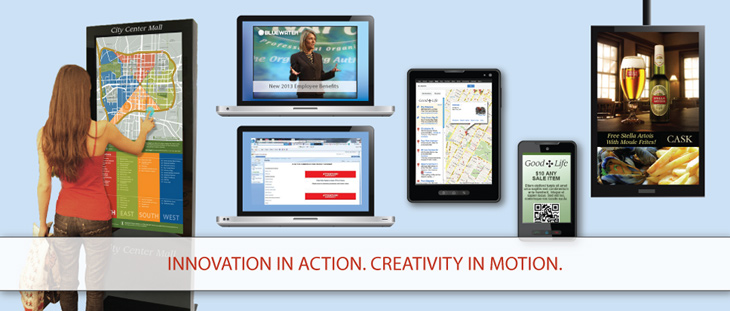 Digital Signage
Participate in the new world of immersive marketing, advertising and consumer engagement
Digital signage is being used as an important marketing and communications solution for a wide range of industries and venues. X-Factor services this expanding market by providing it's turn-key software solution, Digital Screen Control Portal, dscp://.
Digital Screen Control Portal allows non-technical users to quickly, easily and effectively create update, manage and deploy content over your signage network and add interactivity via mobile SMS, 2D Barcode, location services & touch screens.
The software's content management, workflow and syndication features provide multiple levels of control and a robust toolset to maximize efficiency when updating and displaying content over your digital signage network.
X-Factor's Digital Screen Control Portal Software (dscp:// ) is available as either a License or Software as a Service (SaaS) version to provide a quick and cost effective solution with the scalability and reliability that our customers demand.
With X-Factor's dscp:// software you can dynamically communicate and interact with employees, guests or patrons within your organization and also display information, promotions or advertisements to the public. Increase your communication, marketing and income producing capabilities by transforming any physical space into a more compelling and exciting interactive environment with X-Factor's Digital Screen Control Portal (dscp://) software today.